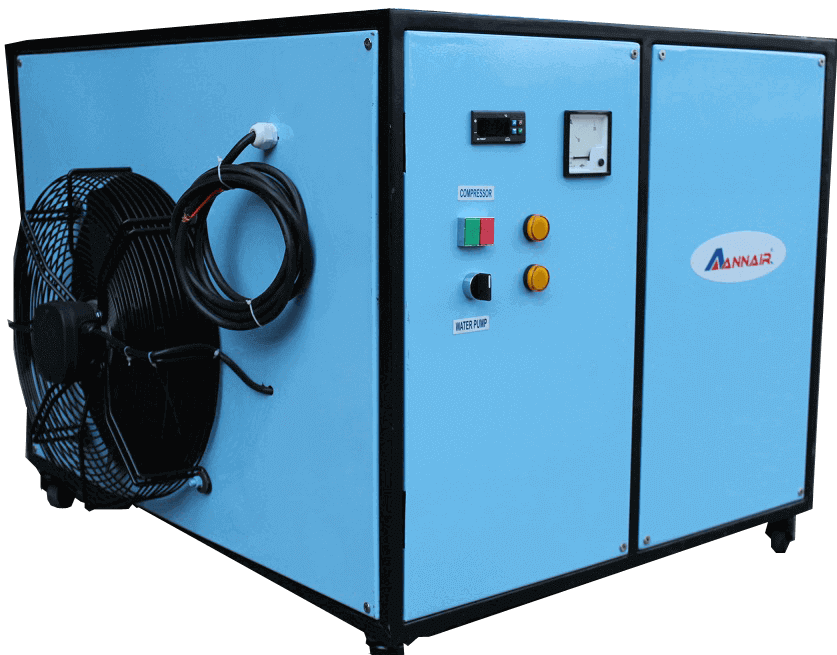 Our company has been manufacturing water Chillers ((Online Type) specially for Packaged drinking water, RO water industry for a decade.This chillers are equipped with premium Hermetically sealed compressors (Standard)/ Rotary / Scroll compressors?? ( Optional)and Brazed Plate Stainless steel Exchanger for providing powerful cooling ability with low vibration and noise. They are created with superior quality materials in order to function with energy efficiency.
Our Water Chillers require low maintenance and having automatic operation . ANNAIR Water chillers are widely accepted in the industry. We manufacture chiller as per OEM specifications and end user as well. Our on line Chiller range starts from 100 LPH to 50000 LPH capacity mainly for Beverage & packaged drinking water applications. These chillers are compact in design and robust in body structure.. We used parts from reputed HVAC & electrical manufactures only. Process chillers are available with Water cooled & Air cooled condenser. We have Stainless Brazed plate exchangers,Shell & tube, and Tube in Tube type ex changers as evaporator..
Key Features
Energy efficient Low maintenance
High performance Durable Standard material
Chillers are skid mounted, compact & ready to install
It comes as fully automatic with controls from tried & reputed sources
Brazed Plate Stainless Steel ex changers ensure constant & quick cooling effects
Liberally sized fan and high efficiency fin & tube air cooled condensers are used
Water chillers are tailor made to suit different working parameters
High pressure & high volume stainless steel (Internal) pumps for round the clock operations
Digital temperature indicator controller for precise temperature controlling.
Audio visual indication for controls and safeties
Application:RO water, Packages Drinking water, Beverages, Plastic , printing, Paper, CNC machines etc..??